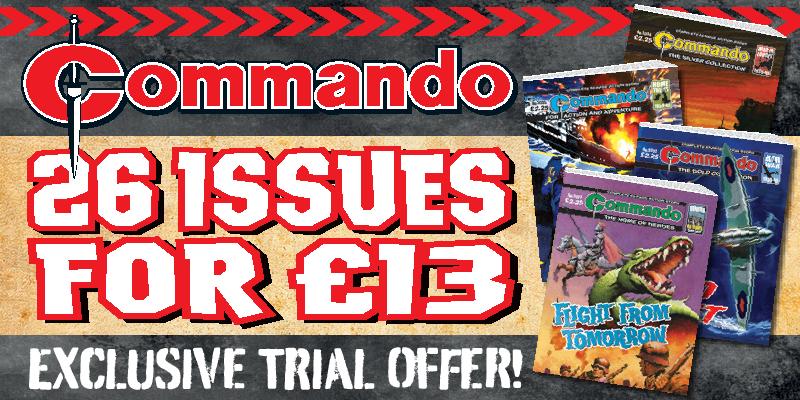 Commando is Britain's longest serving war comic, publishing stories of action and adventure since 1961. These stories, with their mixture of excitement, danger and courage under fire, and the dynamic artwork that accompanies them, have won Commando a loyal readership over the decades.
CLICK HERE TO CLAIM YOUR EXCLUSIVE TRIAL OFFER
This offer gives you:
SAVING OF £143 OFF SHOP PRICE*
Massive saving!
104 COMMANDO COMICS A YEAR!
Get 4 issues every 2 weeks!
DELIVERED STRAIGHT TO YOUR DOOR!
Don't miss a single copy ever!
Great Reasons To Subscribe…
FIRST 26 ISSUES HALF PRICE!* Only £13 which works out to 88p per issue!
FREE UK DELIVERY direct to your door.
GUARANTEED to receive your copy before it's in the shops.
NEVER MISS an issue of your favourite Comic.
Terms and conditions

Trial offer – You can easily cancel your Direct Debit with us after your first 26 issues. No long term commitment required. If you do not cancel after your first 26 issues, you will be billed at £26 every 3 months thereafter (£91 for the first year). One year non-direct price: £150. Six months non direct debit price: £85. Direct Debit available for UK bank accounts only. Overseas customers please call +441382 575580.
* Saving of £143 shown based on the yearly retail price of £234 compared to annual Direct debit price of £91.