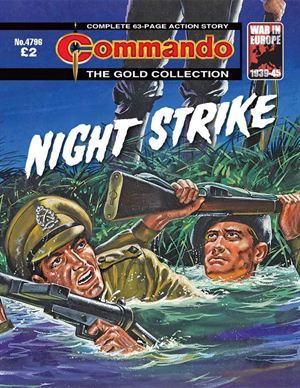 A tough, battle-hardened platoon finds it hard to accept a young officer straight from home, especially when the signs are that he may be a coward.
But Second Lieutenant Gary Bardon was no coward. His nerve had broken, true, but when the chips were down he went all out to prove he was twice the man they thought he was.
Introduction
Over the years we've had a fair few "brothers at war" stories. In fact, there was one a couple of months back called just that. It's a device that works well, and this story is no exception. The siblings at each other's throats are not only in the same arm of the forces, they are in the same unit, one commanding the other. But who is really in command? Now there's a question.
The inside by Buylla – who illustrated 9 Commandos in all – is assured and engaging. Particularly in the final sequences, his compositions come to dangerous life just like the story.
I think you'll like this one – I know I did.
Calum Laird, Commando Editor