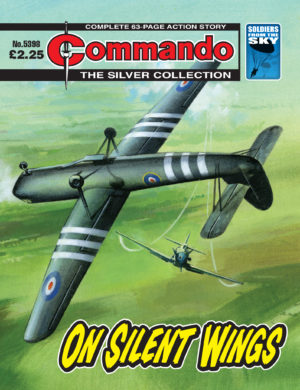 Looping the loop in a huge glider packed full of troops might seem impossible, but it can be done if the pilot is good enough — and desperate enough to take the chance!
Sergeant Hugh Miller, the co‑pilot of this glider was certainly desperate enough. His first pilot was wounded and if he didn't do something quickly then enemy fighters would reduce his wooden aircraft to splinters.
Hugh's skill had been in question, and now that he had the safety of all those men in his hands, he was facing the toughest test of his life!
Story: RA Montague
Art: Gordon C Livingstone
Cover: Cox